Dear Friends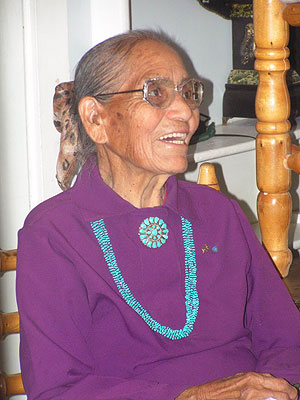 It is with deep regret that we inform you of the passing of Clara Sherman on July 31st, 2010.
Clara Sherman was a humble, sweet and gracious treasure of the Navajo people to her last breath. Clara received many prestigious awards in her weaving career of almost 90 years. This culminated with the SWAIA Lifetime Achievement Award in 2004 and the New Mexico Governors Award for excellence in the Arts in 2006.
There are many stories about Clara and you are invited to share them with us. We will in turn share them with the other Friends of Toadlena. We are creating a special section on the web site to display fotos of Clara herself, her rugs and stories about her.
You are invited to join the Toadlena Trading Post in contributing to Clara's funeral expenses. Mark has made a contribution but cannot bear the entire cost. The family would appreciate the assistance.
Our condolences to her family.
Sincerely and sadly,
John Andrews
Toadlena Trading Post
The following physical address is associated with this mailing list:

Toadlena Trading Post P.O. Box 8041 Newcomb,NM 87455