Welcome to Toadlena Trading Post
Toadlena Trading Post operates in the same way trading posts have since the 1870s—directly with the weaver and her family. You are offered the unique opportunity to acquire a textile of timeless beauty, acknowledged excellence and lasting value.
The Navajo weaver is following the "Path of Beauty" with a skill passed down from Spider Woman. We invite you to visit the Toadlena Trading Post in New Mexico or follow the progress of the weavers on our web site.
Sincerely yours,
The Toadlena Trading Post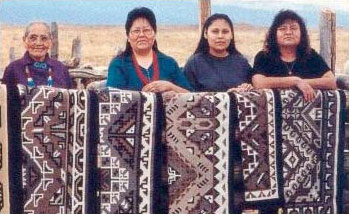 Clara Sherman
While you are here, be sure to read about Clara Sherman, master Navajo weaver, her weaving daughter and her weaving granddaughters. The Toadlena Trading Post exists today for the primary purpose of inspiring future generations of Navajo weaving excellence. Clara was recently honored twice for her life and weaving skills.
Read more about her and her family here.
They are the living proof that the weaving tradition is still alive.
Check out our newest rugs and weavings.